Bobby Bizup was found dead after disappearing from Camp St Malo in Allens Park in 1958.
Denver — More than 60 years after a hearing-impaired boy disappeared from a Catholic summer camp and died, federal agents have obtained incredible physical evidence.
How this finding led to an ongoing federal investigation into the case, with a "9 Wants to Know" report that raised nasty questions about Bobby Bizup's disappearance from Camp St Malo near Allens Park in 1958. It's not clear if it will affect it.
Watch Kevin's complete story about the discovery of the skull at 9NEWS at 9 and 10 pm tonight.
The following summer, hikers found part of the boy's body high up on Mount Meeker in Rocky Mountain National Park, a few miles west of the camp. At that time, the incident was thought to be nothing more than a boy getting lost in the woods and succumbing to the elements.
Related: The priest mentioned in the report of sexual abuse disappeared when a candle boy (10 years old) was working in a church camp in 1958.
But 9 Wants to Know elsewhere about the camp's three counselors continuing to sexually abuse their children as priests, and other witnesses and documents about the sequence of events when Bobby went missing. After revealing that they raised the question, Park Services and FBI agents-a range investigation.
"Poor Bobby," his cousin Harriet Duditch told 9 Wants to Know. "He needs justice. As you know, he was put in to rest in peace. Sad."
DNA testing is underway to confirm that the skull belongs to the boy, 9 Wantsto Know learned.
Earlier this year, it was handed over to federal authorities by a man from the Denver region, Dr. Tom Macroski.
Related: What Happened to Bobby Bizup? Questions remain for decades after the boy disappeared from the Catholic summer camp
He told 9 Wants to Know that it was originally owned by his father, a prominent member of the Catholic Church, and Dr. Joseph Macroski, a close friend of the priest who ran Camp St Malo when the boy disappeared. I found out.
Joseph Macroski died in 1980, and Tom Macroski said he got it a few years later.
Tom Macroski told him that his father only told him that it might be the skull of a boy who disappeared from the camp. He said he couldn't remember the exact words of his father.
Over the years, he said he identified the boy and made several attempts to find news articles about his disappearance.
Then in late December, he saw the 9 Wants to Know documentary "Mysteryon Mount Meeker" and realized that the skull was probably Bobby's.
> See the full text of the special "Mt. Meeker Mystery" in the video player below.
You can watch it on demand at any time on ROKU, Amazon Fire, and Apple TV. Click the links below for more information.
Related: Watch 9NEWS for free on ROKU, Apple TV, Fire TV
He contacted federal authorities and turned over the skull that had been stored in a paper bag in the basement.
This discovery adds another dimension to the mystery that many major players are no longer alive and many questions remain unanswered.
Bobby, the only child of an Air Force sergeant and his wife, was almost completely deaf. He communicated in sign language and lip reading, but had a hard time speaking, especially if he was upset or upset.
In 1957 and 1958, he visited Camp St Malo, between Allenspark and Estespark, for five weeks.
The camp was a mecca for Catholic boys hiking, shooting rifles, crafting, modeling and swimming in nearby national parks.
On August 15, 1958, Bobby disappeared.
At the time, camp director Father Richard Heister told reporters that Bobby was fishing and couldn't bring counselors and other boys back to the main lodge for dinner. That night, a search team left and within a few days, with the help of Bloodhounds and aircraft, hundreds of people were looking for the boy in the woods.
They did not find him and the search was eventually stopped.
Photo: Reminds me of Bobby Bizup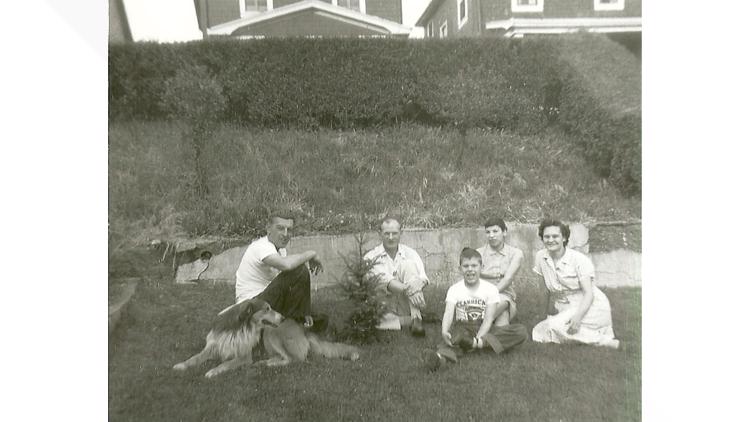 The following July, a group of hikers (a group of three counselors and a group of boys in the camp) headed to Mt. Meaker, just west of the camp, one of whom encountered a piece of bone and clothing.
The next week's search found more bones and clothing, and authorities concluded that they were Bobby's body and he died "probably due to fatigue and exposure."
No one questioned the case, and it was never thoroughly investigated.
Joe and Connie Bizup buried Bobby in Fort Logan National Cemetery.
"For the rest of their lives, they were married and happy together, but there was always sadness in their hearts," the boy's cousin Dudic told 9 Wants to Know. "You could just say."
However, the 9 Wants to Know survey raised many questions as to whether Bobby's disappearance was really just a boy lost in the woods.
Indeed, the last person to see Bobby was a counselor, and it was Neil Hewitt who found the bones and clothing on Mount Meeker.
At that time he was in a seminary. After being ordained in 1962, he sexually abused at least nine boys in four parishes of Colorado and married in 1980, leaving the priesthood.
Hewitt repeatedly denies 9 Wants to Know that it has something to do with Bobby's death.
> Video below: 9 Wants to Know reporter Kevin Vaughan asks Neil Hewitt about Bobby Bizup.
Two other counseling seminaries, Harold Robert White and Gerald Leboli, were also priestly child sexual abusers. White was the worst and the worst, with at least 70 known casualties.
In addition, 9 Wants to Know found that the story of Bobby's disappearance did not match the witness's description.
Camp director nephew Hewitt and Richard Hyster, of the same name, saw Bobby just before he disappeared and explained that he was upset before he escaped.
At the same time, Hewitt discovered bones and clothing on July 3, 1959, according to a National Park Service document obtained by 9 Wants to Know. However, Father Hyster did not report it to the Parks Bureau until July, three days later. 6.6.
Behind this is the discovery of the skull and many new questions.
No one knows who found the skull and when, but it is estimated that it was found sometime after the other bodies were found and buried at Fort Logan.
Larry Collins, an employee of Seasonal Park Services, who was involved in the initial search for the body, said Bobby's skull was never found. The Park Service Report, obtained by 9Wants to Know, details many of the other bones found, but does not mention the skull.
The camp director's nephew told 9 Wantsto Know that a federal agent said he believed his uncle owned the skull and gave it to his friend Dr. Joseph Macroski.
Like many others who were there when Bobby disappeared, Father Hister is no longer alive – but his nephew clearly did not inform authorities or the boy's family. I am worried about.
"It's very disturbing to me to think about it," the young Hiester told 9 Wants to Know. "I can't understand why. Obviously there must have been one, but I can't understand what it was.
"I think that's the solution, I don't understand it, I don't understand it, and it's a concern."
Equally concerned is long-time prosecutor Rich Orman, who was plagued by 9 Wants to Know findings and was amazed at the latest developments.
"It's horrifying," he said. "It's amazing. And to me it shows guilt. I don't think you'll do this to your family … without guilt. It's a Catholic church or It surprises the imagination that religious groups like some of the Catholic Church will act in that way. "
He said it made him even more suspicious than before, for whatever reason.
"Unless you have something to hide, don't hide it," Oman said.
Mark Haas, a spokesman for the Archdiocese of Denver, said the organization is working with investigators.
"This tragic situation occurred more than 60 years ago, and those who currently work in the Archdiocese have no direct knowledge, except for the 1958 and 1959 newspaper clippings," he said. Told. We cut out newspaper clips from our archive for review and offered to assist their investigation in every way we could. "
The question now is whether investigators can determine exactly what happened, and whether Bobby was a victim of fraud.
"Someone was able to write a book about this-a mystery book-and there is no end," Dudic said. "That's how it feels, right? No one knew anything in the last few years, but suddenly this happened a year or two ago.
"And it was very shocking. Still shocking to me."
Contact Kevin Vaughan, a 9Wants to Know researcher, for tips on this story and story. kevin.vaughan@9news.com Or 303-871-1862.
Full series: What happened to Bobby Bizup?
Source link The skull of a missing boy may have been stored in a Colorado basement for years