We have arrived at the first Monday of Summer.
The 11th Thursday of Summer will feature a live Ohio State football game, which means despite the fact that's still only June … yesterday we technically entered football season.
The Buckeyes play Minnesota, Oregon and Tulsa during the summer – that's a full quarter of the schedule. Every other opponent shows up in fall. Not understanding the nuances of this calendar technicality can create unintended consequences. Message accurately and accordingly, friends – or you might end up in church with one bar on your phone at kickoff.
Kevin is honeymooning. Washed-up C-listers will fill in until his return. Good morning! Let's Skully.
 TODAY'S NSFW ANTI-WORK #BANGER: hollywood sucks// by Kenny Hoopla & Travis Barker
 HUNTER ARMSTRONG WILL BE SWIMMING IN TOKYO. Remember when Ford Kono, George Onekea, Yoshi Oyakawa and Albert Wiggins all made the U.S. Olympic team as Ohio State swimmers?
You do, really? That was 65 years ago. Congrats on the mental acuity, swimming enthusiast – you'll be pleased to learn that Ohio State will have another male swimmer in the Olympic pool for the first time since Woody's sixth season on campus.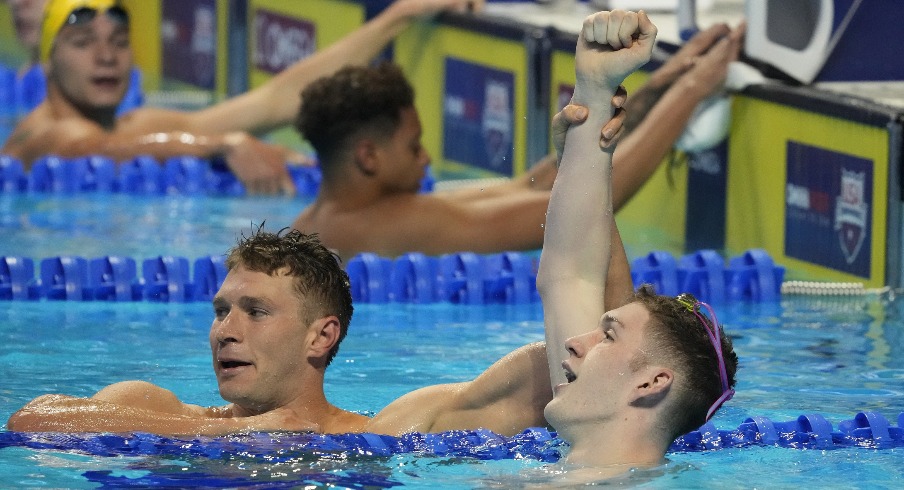 Jun 15, 2021; Omaha. Hunter Armstrong (right) celebrates after the Men s 100m Backstroke Finals during the U.S. Olympic Team Trial finals. © Rob Schumacher-USA TODAY Sports
Rising junior Hunter Armstrong's personal best of 52.67 in the 100m backstroke got him into the finals with a chance to qualify for Tokyo. That mark barely lasted a day, as the Dover, OH native bested it with a 52.48 in that final swim, finishing second only to defending Olympic champ, gold medalist and world record-holder Ryan Murphy.
That's Murphy pictured to Armstrong's left in the photo above. He took first by .15 seconds.
"We are so incredibly thrilled for Hunter and the opportunity he now has to represent the United States at the 2020 Tokyo Olympics," Bill Dorenkott, Ohio State director of swimming and diving said. "He is swimming extremely well and is within striking distance of the world record (51.97 set by Murphy in 2016). I think he will have some terrific Olympic Games swims."
In a sentence that will never not be surreal, the 2020 Olympics begin July 23, 2021. Go Hunter. Go Bucks. Go U.S.A..
 ZACH HARRISON HYPE IS CRESTING. Harrison has been Next for several years, because Ohio State expectations are absurd and we wouldn't want it any other way.
Headlines like Zach Harrison Looks Terrifying and Zach Harrison's 12-Foot Basement Ceiling have evolved into Zach Harrison Emerging as Team Leader which suggests Next has just about arrived.
DE @zacharrison_ does important work on and off the field, representing @OhioStateFB on the Big Tens Anti-Hate and Anti-Racism Coalition. #CharacterCounts pic.twitter.com/NppZJrydi1

— Lott IMPACT Trophy (@TheLottTrophy) June 15, 2021
Normally #WatchListSZN shouldn't raise too many eyebrows (congrats to the 531 finalists!) but the chatter around Harrison as he enters his junior year is too loud to ignore. If he's anything as marvelous as predicted he can finally pass his Next crown to another gifted teen.
 NICK BOSA'S KNEES SEEM FINE. Aliens have special wound-mending capabilities the rest of can only envy.
Smaller Bear earlier this off-season. Hes going to be ready to be a terror in the NFL soon again. #49ers #NickBosa pic.twitter.com/OfzsXv9WAl

— 49er_Edits (@49er_edits) June 17, 2021
Bosa tore his right ACL in high school and his left ACL in Week 2 of last year's NFL season. He missed most of his rookie preseason with a sprained ankle after missing offseason workouts with a hamstring injury. And you might remember the core muscle injury that erased most of junior season, depriving us of The Chase Young/Nick Bosa Experience.
He's earned the monicker of being injury-prone, but every time bounces right back and ends up being even more dominant on the field. Here's to him staying healthy long enough to earn a different monicker, one that matches his field production with his lofty projection.
 TIMELESS CAMPUS IMAGE OF THE DAY. He looks delicious, but paralyzed by anxiety.
We're celebrating @Brutus_Buckeye for #NationalMascotDay! Brutus' style has evolved since his inception ins 1965. Here is Brutus in 1977, just 12 years old. pic.twitter.com/oxKfB3bVXX

— OSU Archives (@BuckeyeHistory) June 17, 2021
Brutus eventually evolved into having a torso, which is how he's able to wear that Freddy Krueger sweater. Pre-torso/late-stage Woody Brutus was a 200-pound peanut butter and chocolate ball during the pre-Prozac era. Look at that face. Those eyes. Obviously he watched the 1974 Michigan State game and never got over it.
I have no lucid memories of anxious/confectionary Brutus, but I prefer him. Love is love.
 HAPPY BELATED FATHERS DAY. On point and in-scope.
Theres just a different standard when it comes to THE Ohio State Football. The development both physically and mentally is unmatched. The determination you see in his face is how he attacks life. Its bigger than football. His grandfather would be proud. #ScottLegacy pic.twitter.com/0MYp41VL0k

— Gee Scott (@GeeScottSr) June 19, 2021
Cannot remember a Buckeye I've been more excited to see in a new position than Gee Jr.. Hope you had a happy pops day, senior.
 HERE'S A JOKE YOU CAN CLAIM AS YOUR OWN. A man with a black eye is seated on a flight to Pittsburgh in seat 11A as the plane is still boarding. A second man approaches the row and takes the seat next to him, 11B. He also has a black eye.
The two bruised men look at each other in stunned silence, contemplating the coincidence. « You first, » 11A finally mutters. « What happened? »
« Ugh, so humiliating, » says 11B. « It was in the terminal. I was trying to get onto this flight and the woman helping me was, shall we say, generously endowed. I tried so hard to focus but instead of saying ticket to Pittsburgh I accidentally blurted out picket to Titsburgh. She gasped and then slugged me. So embarrassing, I'm such a pig, » he whispers.
11A's jaw drops. « That's unbelievable, » he says. « That's almost exactly what happened to me. »
« What? » 11B says in disbelief. « No way. »
« Yes, » says 11A, « almost identical situations. This morning in my kitchen I was having breakfast with my wife, and I tried to say honey can you please pass the Corn Flakes but instead I accidentally said you miserable bitch you ruined my life. »
 PAY FORWARD, BUT DON'T FORGET TO PAY YOURSELF. Remember, self-care is not selfish.
On the mental health continuum between depression & flourishing is « languishing. » If you're feeling stagnant or emotionally fatigued, you may be languishing & in need of good self-care. Learn how you can help yourself in my new @OhioStateAlumni article: https://t.co/k6X7yoD5Z9

— Bernadette Melnyk (@bernmelnyk) June 17, 2021
From the article:
Many of us are emotionally fatigued. The COVID-19 pandemic has been an emotional roller coaster, triggering unhealthy lifestyle behaviors and mental health problems in its wake…As the pandemic has dragged on, we are no longer reacting with panic, but we may be feeling fatigued and bogged down by long-term emotional turmoil.
I've had more than one reader describe this web site to me as therapy. That's humbling and flattering, but sometimes life requires something a little stronger and more deliberate than Eleven Warriors. Take care of taking care of yourselves, comrades.
 YOUR MOMENT OF ZED. We started with Olympics. Let's end with Olympics-adjacencies.
Too easy for @iamzedkey

#USABMU19 x @OhioStateHoops pic.twitter.com/7McA1xshmq

— USABJNT (@usabjnt) June 21, 2021
The 2021 USA Basketball Men's U19 World Cup Training Camp is underway with 26 under-19 players trying to make the 12-member team that will represent America at the U19 World Cup in Riga and Daugavpils, Latvia next month.
Zed Key and Meechie Johnson are two of those hopefuls. Go Zed. Go Meechie. Go Bucks. Go U.S.A..
 SONG OF THE DAY. « Uncle Watson Wants to Think » by Too Much Joy
 SITUATIONAL LINKS. How pizza took over our freezers…kill the 5-day work week…why Bo Burnham, Jenna Marbles & Shane Dawson all logged off…the surprising return of a forgotten Nintendo game…the easy bedtime ritual that will help you build muscle while you sleep…burnout runs deeper than « too much work. »