Jared Sullinger may just be the innovator of our generation.
They might as well add gambling to madden fifa and 2k H2H for the bread that will automatically upload as soon as the game is over

— Jared Sullinger Sr. (@Jared_Sully0) June 14, 2021
Maybe he can use that TBT money he's about to earn to make this happen.
Word of the Day: Levigate.
 BLUE CHIP BABY. You're not going to win a national title on elite recruiting alone, but without it, you can go ahead and eliminate yourself from contention before the season even starts.
Put simply, to win the national championship, college football teams need to sign more four- and five-star recruits (AKA "Blue Chips") than two- and three-star players over the previous four recruiting classes. 

This has been true basically as far back as modern internet recruiting rankings have existed. 

Media will sometimes hype a team which has not met the threshold as a national title contender, but history has shown that is not a smart practice. Think Wisconsin, Baylor, Michigan State, TCU, Utah, etc. over the last decade.

…

That is not to say that development does not matter. It certainly does. But nobody wins a national title by player development in lieu of elite recruiting. Plenty of coaches who are regarded as elite have never sniffed winning it all because they can't get enough talent. On the other hand, there are examples of coaches who are not regarded as premier head men who have won it all thanks to elite recruits. Not to lump them into the same category, but nobody ever accused Gene Chizik, Les Miles, or Mack Brown of being tactical masterminds.
The good news is Ohio State is one of just 16 teams to make the cut here, checking in with the third-best Blue Chip ratio in the country behind only Georgia (who you know damn well isn't going to do anything with that talent) and Alabama (who, unfortunately, you know damn well will).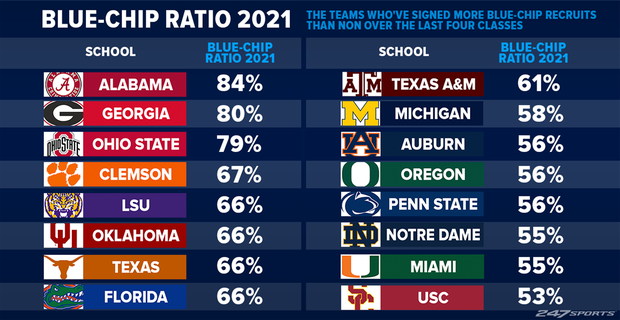 And those are your title contenders (though I think we can safely whittle that down to 15 with ease, if you catch my drift).
 THANKS FOR THE MEMORIES. Leaving Ohio State was almost inarguably the correct move for Tyreke Johnson's football career, but that doesn't mean it was easy.
Johnson redshirted in 2018 and then played in 12 games for the Buckeyes and experienced multiple coaching changes in the process as other players found full-time roles ahead of him. Still, the decision to leave OSU and look for another opportunity was not an easy one for the former top-ranked safety nationally in the 2018 recruiting class.

"It was hard to leave Ohio State just because of how great the program is, how great the coaches are and the relationships and bonds that I've built with my brothers over there," said Johnson, who first entered his name into the transfer portal about a month ago.
To be frank, there are a lot of guys who end up buried on the depth chart that leave me thinking « how in the hell is that guy still here? » But sometimes I forget that this isn't just a video game and there are more reasons than just football why someone might want to stay at Ohio State.
Sounds like that easily could have been Tyreke Johnson.
 JSN SZN. You probably don't need a listicle of inside information from Bruce Feldman to tell you that Jaxon Smith-Njigba is primed for a breakout season, but we're at the height of Subjective List Season™ so I'm gonna give it to you anyway.
Feldman's subjective list is « 35 college football players I hear are ready for a breakout 2021 season » and he's got JSN at No. 7.
7. Jaxon Smith-Njigba, Ohio State, WR: Coaches inside the program feel like the 6-foot, 197-pound sophomore from Texas is their next one — as in, their next stud wideout in the pipeline who feels like he is only now getting really cranked up. Make no mistake, it'll primarily be Garrett Wilson and Chris Olave's show in 2021, but good luck to the defense that tries to cover Smith-Njigba with a safety. He's just too smooth and slick for that. He's also gotten a lot stronger in a year after catching 10 passes for 49 yards and one TD in 2020. He is said to be a very physical blocker and will add the grit and toughness on the perimeter that OSU had a few years ago with Terry McLaurin and Parris Campbell.
I understand that I am not the list master in this case, but I think Feldman could have safely thrown (Insert Ohio State starting quarterback here) on there for a guaranteed correct inclusion.
 JARED SULLINGER, INNOVATOR. News of Aaron Craft's return to Carmen's Crew gave me all the warm fuzzies inside, but I'm almost equally stoked to watch Greg Oden dunk on folks in this year's BIG3.
This seasons roster is loaded! Next stop, Las Vegas! Season starts July 10 on CBS and Triller! #BIG3IsBack pic.twitter.com/0pRr4gvW67

— BIG3 (@thebig3) June 15, 2021
My guy's 33 years old and hasn't played in the NBA since 2014, but at the end of the day, he's still seven feet tall. He's gonna get his.
 SONG OF THE DAY. « Here & Now » by The Ernies.
 NOT STICKING TO SPORTS.  A mass grave was discovered in a 'psychopath' ex-cop's well… How the world's priciest painting ended up in the hands of a notorious killer… A scribbled Kurt Cobain self-portrait has sold at auction for $281,250… The gangs that steal your puppies… The strange tale of the identical twin's mirrored mansion… Why Buffalo is a hub for illegal debt collectors who scam thousands across the country…