It's been I cannot get over this absolutely magestic use of the new NIL rules.
Appreciate all the love from Buckeye Nation! Check out the link! #GoBuckshttps://t.co/LL4A0gDntJ

— Wypler (@LukeWypler) July 26, 2021
As of last night, he was approaching 80 sales, meaning in like seven hours, he turned a disrespectful Tweet into a quick $4,000 and counting.
If football doesn't work out for him, I think he's going to be just fine in the business world.
Word of the Day: Indolent.
 STAYING PUT. It looks like the Big Ten won't be Keeping Up With the Joneses, after all. While the SEC is set to add Texas and Oklahoma, the Big Ten reportedly has « little to no interest » in expansion.
As discussed on Podcast, hearing little to no interest in expansion from Big 10 sources. No need to make a move. There is talk of a scheduling agreement with Pac 12 (rotation of non-con games). No, Ohio State/Michigan aren't leaving.

— Dan Wetzel (@DanWetzel) July 26, 2021
As fun as it would be to freshen things up a little bit, adding some random teams just for the hell of it really doesn't make a whole lot of sense for many reasons. Primarily, the green, numeric ones.
The bottom line: a new Big Ten school would need to deliver at least $70 million per year just for the league to not lose money on expansion. Notre Dame could do that along with UT and OU (who are now off the table) and some of the aforementioned options in the ACC and Pac-12, but it's otherwise hard to see anyone else. (Plus, any "expansion plan" that is predicated on Notre Dame joining isn't an expansion plan at all since they are committed to independence as an institutional identity. The ACC needs to be reminded of this just like the old Big East football conference.) The only Big 12 school that even has a chance at the Big Ten is Kansas (and that's assuming that its basketball program is so uniquely and singularly valuable a la Duke/UNC/Kentucky that it overwhelms its football issues). As I discussed many years ago with the original Big Ten Expansion Index, a new school needs to be an academic and cultural fit, bring in a new market and/or national brand and, above all else, make a lot more money for the conference. At the end of the day, the Big Ten isn't going to expand just for the sake of expanding.
All in all, I'm cool with it. Let the SEC have its little arms race and just call me when they crown a champion that wants to play the Bucks.
 DEVIN SMITH, POET. If you're looking to feel some Buckeye-induced chills this fine Tuesday morning, I'd like to direct you to this excerpt from Marty Smith's book where Devin Smith goes full Walt Whitman with one of the most poetic responses possible when asked about what his Buckeye stickers mean to him.
chills, even if you are not a Buckeye.

what does this f sticker mean to you, man?@MartySmithESPN pic.twitter.com/QGBzRNmEhr

— Shannon B. Terry (@sbterry247) July 25, 2021
Devin Smith, take my job. It's yours now. Your words are better than mine. I yield the throne.
 DUAL-THREAT. One of my favorite times of the preseason is when Ohio State quietly updates its roster for the upcoming season and you get to comb through it for all the strange changes they made without really telling anyone.
This time, we got Demario McCall switching his number to No. 1, Gee Scott Jr. officially listed at tight end, and Steele Chambers still listed at running back.
But this one was without a doubt my favorite change: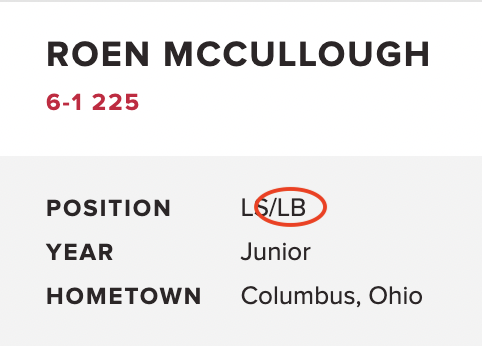 I'm quite certain this is the first time in my life I have ever seen a long snapper–linebacker hybrid, but I am absolutely here for it. And honestly, given the way he played in the spring game, I say give him some reps in the fourth quarter.
There's a non-zero chance we get to see Ohio State's long snapper decleat a Maryland wide receiver in garbage time this year and I didn't know I needed that until this very moment.
 DIFFERENCE MADE. Earlier this month, Harry Miller decided to make good use of the new NIL rules by selling shirts to help support his mission work in Nicaragua.
That mission has been accomplished.
Also need to thank those who donated directly to #M4N. Every dollar helps support our kids.
THANK YOU!
To learn more about how I got involved with #M4N visit: https://t.co/wNFsC3BQMd

— Harry Miller (@h_miller76) July 26, 2021
Shoutout to Harry for everything he does for that community – and has done since he was in high school – but also shoutout to anyone here who helped out, because I know there had to be some of you.
 SONG OF THE DAY. « Golden Hour » by Kacey Musgraves.
 NOT STICKING TO SPORTS. A man is rescued after being stalked and repeatedly attacked by a grizzly bear for a week… The legal fight over WWII Panther tank found in a German basement… The Soviet spy steam railway that's still running… A father builds an exoskeleton to help his wheelchair-bound son walk… Jack Antonoff on the seven habits of highly effective producers… How mockingbirds compose songs just like Beethoven… How to bullshit like a pro, according to experts studying bullshit…